Sponsors
Workshop Sponsors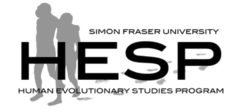 The purpose of the Human Evolutionary Studies Program (HESP) at Simon Fraser University is to create an internationally-recognized research and training hub that advances the integrated understanding of the body, mind, and behaviour and social institutions of Homo sapiens within the framework of evolutionary theory. HESP accomplishes this goal by novel and highly interdisciplinary research projects that are empirically grounded and foster collaborative relationships among diverse SFU faculty, postdoctoral fellows and graduate students. By providing undergraduates, graduate students and postdoctoral fellows with world-class training that transcends traditional disciplinary boundaries, HESP is preparing a new generation of human evolutionary researchers to become leading figures and partners across disciplines.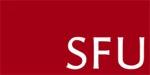 The primary objectives of Simon Fraser University's Office of the Vice-President, Academic and Provost are to resource and support an outstanding education for SFU students and to provide a productive research environment for Faculty by attracting and supporting the best students; recruiting and retaining faculty who are outstanding teachers and researchers; supporting excellence and innovation in academic programs; promoting excellence in research, scholarship and teaching; and responding to community needs for education and research.
The Faculty of Health Sciences at Simon Fraser University offers one of Canada's most comprehensive interdisciplinary programs in health sciences. Researchers and students from a broad spectrum of disciplines spanning the humanities, social sciences, and life sciences work together in a unique non-departmentalized environment to encourage the study of health and disease from "cell to society" and to apply this work in the context of population and public health. The Faculty of Health Sciences Mowafaghian Child Health Faculty Awards provide funding for activities carried out by faculty members that support capacity in child health research and teaching in the form of seed money for projects, conference presentations, published outputs, training courses, workshops, seminars and other relevant activities.

The Michael Smith Foundation for Health Research (MSFHR) supports a vibrant research community in BC that is recognized worldwide for innovative discoveries that improve health and save lives. The MSFHR puts health research to use to improve BC's health system by funding and managing projects that target gaps in health research and address provincial priorities. As a respected facilitator, the foundation builds connections between researchers, coordinates sharing of resources, and brings together BC's universities, health authorities, non-profits, and government for health research planning and action.