Workshop - Evolutionary Aspects of Child Development and Health
Tue, 2014-06-03 (All day)
-
Thu, 2014-06-05 (All day)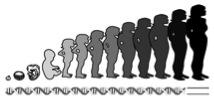 Evolutionary Aspects of Child Development and Health
Harbour Centre, Labatt Hall (Room #1700)
Simon Fraser University, Vancouver, Canada
The risk of adult heart disease, cancer, and a broad swath of other negative health outcomes may result from exposures during fetal and infant development. Why and how? The field of Developmental Origins of Health and Disease (DOHaD) focuses on connections between adult health outcomes and exposures to social and physical challenges experienced during early life. Some of those links may have originally emerged as evolutionary adaptations. Yet, some of them may become harmful when expressed in environments that differ from those in which the link originally evolved. How should practitioners deal with the resulting biological traits? How can we integrate our understanding of a trait's evolutionary origin, the roles of the environment, genetics, and epigenetics in ontogeny, and the biological mechanisms that mediate phenotypic expression, to improve developmental outcomes? Obtaining answers requires integration and collaboration across diverse fields including evolution, ecology, child development, and medicine. This integration is paramount to the creation of novel programs that optimize human development in a variety of socio-economic environments, interventions that prevent undesired outcomes, and treatments to ameliorate the effects of early exposures when prevention is not possible. Towards these aims, this workshop brings together world-renowned experts and trainees studying development from a broad variety of perspectives.
Invited Speakers:
Professor Sir Peter Gluckman, University of Aukland

Dr. Michael Meaney, McGill University

Dr. Stephen Stearns, Yale University

Dr. Peter Ellison, Harvard University

Dr. Randolph Nesse, Arizona State University

Dr. Deborah Sloboda, McMaster University
Dr. Bernard Crespi, Simon Fraser University

Dr. Joanne Weinberg, University of British Columbia

Dr. Marla Sokolowski, University of Toronto

Dr. Stephen Matthews, University of Toronto

Dr. Thomas McDade, Northwestern University

Dr. Ronald Barr, University of British Columbia

Dr. Christopher Kuzawa, Northwestern University

Dr. Pablo Nepomnaschy, Simon Fraser University


Evening Public Lecture Wednesday, 4 June 2014, by Professor Sir Peter Gluckman, Chief Science Advisor to the New Zealand Prime Ministe, University of Aukland


For additional information on the workshop, please contact the Workshop Coordinator, Dr. Katrina Salvante (
kgsalvan@sfu.ca
).
Click here to register.
Download the Preliminary Program for the workshop, using the link below
Accomodations
Accomodations
We have negotiated a special conference rate at the
Delta Vancouver Suites
550 West Hastings Street
Vancouver, British Columbia
V6B 1L6 Canada


The Delta is located across the street from Simon Fraser University's Harbour Centre, where the workshop will be held.
All guest rooms offer complimentary high-speed Internet access.
Click here for to reserve a room at the conference rate of $209/night plus taxes.
To make a reservation by phone, please call 1-604-689-8188 or 1-888-663-8811 and mention the group name "International Workshop on Child Development" to ensure you receive the conference rate.
Please note that the conference rate is only available until May 5, 2014.
Organizers
Workshop Organizers
Dr. Pablo Nepomnaschy, PhD
Michael Smith Scholar
Associate Professor, Faculty of Health Sciences, Simon Fraser University
Director, Maternal and Child Health Lab, Faculty of Health Sciences, Simon Fraser University
Dr. Bernie Crespi, PhD FRSC
University Professor
Professor, Department of Biological Sciences, Simon Fraser University
Dr. John Challis, PhD DSc FSB FRCOG FCAHS FRSC
Pro Vice-Chancellor, Health and Medical Research
Winthrop Professor
University of Western Australia
Adjunct Professor, Faculty of Health Sciences, Simon Fraser University
Public Event
Evening Public Lecture
Wednesday, June 4, 2014-03-12
"Evolutionary arguments and the developmental origins of disease: impact on science and policy"
Professor Sir Peter Gluckman, KNZM, FRS, FMedSci, FRSNZ
Chief Science Advisor to the Prime Minister of New Zealand, University of Aukland
Fletcher Challenge Canada Theatre, SFU Harbour Centre
Doors open at 7:30 pm
Talk starts at 8:00 pm
General Admission: $10
Tickets will be sold at the door (cash only) on a first-come, first-served basis starting at 7:30pm
Registration
**Online Registration is now closed**
**To be placed on the waiting list, please contact Katrina Salvante (kgsalvan@sfu.ca)**
Registration
Registered participants will have access to all workshop sessions, as well as daily coffee/tea breaks and lunches. The registration fee includes a ticket to the Evening Public Lecture on Wednesday, June 4, 2014.
Registration fees
$25 CAD for Undergraduate and Graduate Students*
$50 CAD for Post-docs*
$100 CAD for Faculty
The registration fee can be paid by cheque or by credit card through a Paypal account.
*There are a limited number of awards to cover the cost of registration for students and Post-Doctoral trainees. To apply please send a letter of request stating your interest in the workshop and CV to the Workshop Coordinator, Dr. Katrina Salvante (kgsalvan@sfu.ca).
Via Paypal (credit card/paypal):
Please visit the following link: Registration Fee and see the right side of the page under 'Conference Registration Fee'. Select the appropriate registration category and then click 'Buy Now'. You will be taken to a page to enter your Paypal details.
By Cheque:
Once you have completed the online registration, please kindly send the appropriate fee to Chris Papaianni, in the Archaeology department, by cheque. Cheques are to be made out to "Simon Fraser University" with "HESP Evo-DOHaD" in the memo line.
Cheques may be delivered in person to Education Building room 9635 at SFU Burnaby Campus, or posted to the following address:
Chris Papaianni
Department of Archaeology
Education Building 9635
Simon Fraser University
8888 University Drive
Burnaby, BC V5A 1S6
Canada
Sponsors
Workshop Sponsors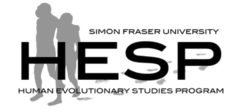 The purpose of the Human Evolutionary Studies Program (HESP) at Simon Fraser University is to create an internationally-recognized research and training hub that advances the integrated understanding of the body, mind, and behaviour and social institutions of Homo sapiens within the framework of evolutionary theory. HESP accomplishes this goal by novel and highly interdisciplinary research projects that are empirically grounded and foster collaborative relationships among diverse SFU faculty, postdoctoral fellows and graduate students. By providing undergraduates, graduate students and postdoctoral fellows with world-class training that transcends traditional disciplinary boundaries, HESP is preparing a new generation of human evolutionary researchers to become leading figures and partners across disciplines.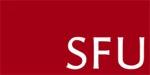 The primary objectives of Simon Fraser University's Office of the Vice-President, Academic and Provost are to resource and support an outstanding education for SFU students and to provide a productive research environment for Faculty by attracting and supporting the best students; recruiting and retaining faculty who are outstanding teachers and researchers; supporting excellence and innovation in academic programs; promoting excellence in research, scholarship and teaching; and responding to community needs for education and research.
The Faculty of Health Sciences at Simon Fraser University offers one of Canada's most comprehensive interdisciplinary programs in health sciences. Researchers and students from a broad spectrum of disciplines spanning the humanities, social sciences, and life sciences work together in a unique non-departmentalized environment to encourage the study of health and disease from "cell to society" and to apply this work in the context of population and public health. The Faculty of Health Sciences Mowafaghian Child Health Faculty Awards provide funding for activities carried out by faculty members that support capacity in child health research and teaching in the form of seed money for projects, conference presentations, published outputs, training courses, workshops, seminars and other relevant activities.

The Michael Smith Foundation for Health Research (MSFHR) supports a vibrant research community in BC that is recognized worldwide for innovative discoveries that improve health and save lives. The MSFHR puts health research to use to improve BC's health system by funding and managing projects that target gaps in health research and address provincial priorities. As a respected facilitator, the foundation builds connections between researchers, coordinates sharing of resources, and brings together BC's universities, health authorities, non-profits, and government for health research planning and action.